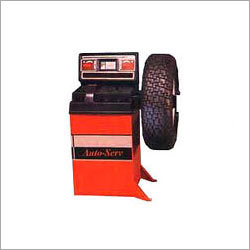 Digital Wheel Balancer
Product Description
Holding panel of motivated professionals & profound industry expertise, we are instrumental in manufacturing and supplying Digital Wheel Balancer. To manufacture these wheel balancers as per the industrial standards, we source certified quality materials from authentic vendor base. Available in diverse specifications, these wheel balancers are suitable for tight shop spaces. Broadly demanded by automobile industries, Digital Wheel Balancer is provided to our clients without any delay. Before supplying to clients, these wheel balancers are duly checked by us on diverse quality norms.
Key Features:

Supreme finish
High durability
Toughness
Further Details:

Auto-diagnostic computer balancer is known for its power and reliability. We hereby present you the 2400 computerized wheel balancing system. Built as ruggedly as larger balancer, it can provide consistent output in high volume service environments. Its packed with state of the art hardware and self diagnostic features.
The Outstanding Features Of 2400
Push button self calibration
Push button start
Quick chucking nut
Fail-safe autotension drive
Vibration isolation system It's equipped with separately designed 56 frame motor, with high starting torque and low power consumption. The Auto-Serv 2400' s advanced design incorporates three service modules - the PCB, sensor arm and motor. That adds up to significant savings in downtime and service expense.
CVT Required: 500VA.
Display: 20 mm highLEDs.
Size: 24"L,16"D,35"H,(77.5x42.5x110cm)
Shipping Size: 32"L,18"D,45MH
Weight: 60 Kg
Cycle Time:Approx. 6.9 sees.
Types of balances: 2planedynamic/static/oraluminiumfor hidden weights.
Digital Readout:Grams or Oz.
Rim Dimension Rim distance 1 "-14", diameter 2"-20", width 3"-20, 102 cm (40")
Tyre Capacity: Accommodates all passenger car and suv's
Power Requirement: 220 V, Single Phase 50 Hz, 5 Amp.
Contact Us
Plot No. 105- C, Near State Bank Academy, Sector- 18, VPO-Sarhaul, Gurugram, Haryana, 122001, India
Phone :+918068090839