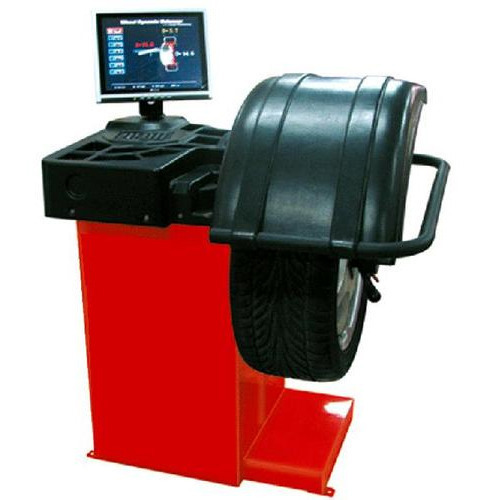 Videographic Wheel Balancer
Product Description
Owing to help of a team of adept professionals & rich domain expertise, we are considered as the leading manufacturer & exporter of Videographic Wheel Balancer. Manufactured using sophisticated techniques, these wheel balancers are broadly used to accurately balance wheels statistically & dynamically. Suitable for balancing the wheels weighing up to 65 kgs, these wheel balancers are available in diverse specifications. Demanded by automobile industries, Videographic Wheel Balancer is offered to our clients at reasonable prices.
Key Features:

Greater accuracy
Digital display
High efficiency
Static optimization programme
4 alloy rim programme: ALU1, ALU2, ALU3, ALU4
Self calibration
Operational error code display
Single phase low spin motor: 200 rpm
Heavy duty shaft
14" high resolution color videographic dispaly with TV function
Possibility of writing one's own name or a message on the initial screen
Possibility of varying the tolerance function from 1 to 10 grams
Possibilty of unbalance display in 1 gram to 5 grams
Measurement for 2 planes as well as for 1 plane is possible
Balancing Accuracy: 1 gms
Data Entry: Keyboard
Automatic stop mecahnism after measurement cycle: Electronic DC injection braking
Further Details:

It is a precision force measuring electronic balancer with 14" color monitor diaplay designed with a minimum cycle time. the machine gives simultaneous indication for both inner & outer rim on video display. All the various commands & displays are situated on front panel. With the A-60's push button operated calibration, it is possible to obtain sufficient regulation range, suitable also for less common kinds of wheels (motorcycle & competition cars). The sophisticated design of the machine makes operations such as per setting of the wheel dimensions, wheel mounting & machine opeartion very simple.
Digital Wheel Balancer
Low maintenance cost
High Accuracy
LED Display
Easy Calibration
Contact Us
Plot No. 105- C, Near State Bank Academy, Sector- 18, VPO-Sarhaul, Gurugram, Haryana, 122001, India
Phone :+918068090839